Women Adjustable Double Band Velcro Waist Trainer
With new advanced 8 x-shaped and 5 regular steel bones our Women Adjustable Double Band Velcro Waist Trainer snug fit your midsection to flattens tummy, relieve back pain and correct posture. With consistency use, it shapes your tummy and define your waistline to achieve an hourglass figure. Suitable for workouts, daily activities and as a post pregnancy recovery waist band.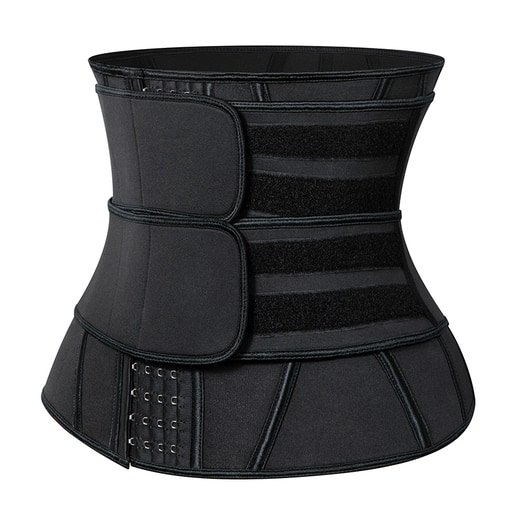 Size Reference
Size  
Waist (cm/inches)
Belt Length (cm)
Front Length (cm)
Back Length (cm)
USA Size
Euro Sizes
UK & AU Sizes

XS

70-79

27.5-31.0

82.5

30.5

27.0

6-8

34-36

32-34

S

79-88

31.0-34.0

87.0

31.0

27.5

8-10

36-38

34-36

M

88-94

34.0-37.0

91.5

31.0

27.5

10-14

38-40

36-40

L

94-100

37.0-39.0

96.0

31.0

27.5

14-16

40-44

40-42

XL

100-107

39.0-42.0

99.5

31.5

28.0

16-18

44-46

42-44

2XL

107-113

42.0-44.0

103.0

31.5

28.0

18-20

46-48

44-48

3XL

112-119

44.0-47.0

106.5

31.5

28.0

20-22

48-50

48-50
Features and Benefits
Acts as a sweat belt and a waist trimmer. It is also a waist trainer corset for workout and other forms of fitness.

Our Women Adjustable Double Band Velcro Waist Trainer is designed with adjustable hooks to ensure your best fitting and give you a sexy natural curve.

Let you sweat more around your abdomen and enhance your workout effects while you exercise due to its thermogenic activities.
Ideal for providing compression and support after pregnancy,  c-section, post-partum recovery or post abdominal surgery, weight loss surgery, abdominal strains and weakness. It also great for tummy training.

Matches with any combination of workout tops and can even be worn under everyday clothes.




Multi-Function Use
The waist trainer sauna effects helps to flatten waistline and belly fat, reduce back bulges and maximize calorie burn. Also, it accelerate weight loss, help you to lose inches off your waist, support your back and correct your posture.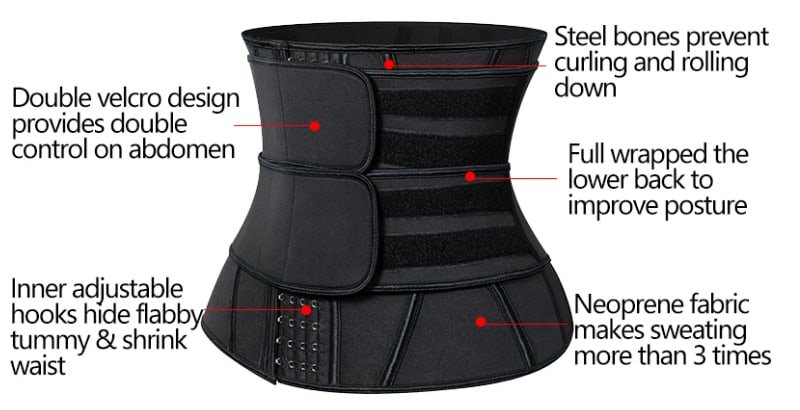 High Quality Material
Shell: Polyester 100%; lining: Neoprene 100%.  Our Women Adjustable Double Band Velcro Waist Trainer is skin friendly, comfortable and highly elastic, not easy to wrinkle or deform.

To increase your core temperature during exercise our waist trainer can be worn either inside or outside without irritating your skin. Plus, the stitching is sturdy and durable.
Principle of fever and acceleration of metabolism help you burn excess fat and lose weight faster with consistency use.
Our Women Adjustable Double Band Velcro Waist Trainer with 13 built in flexible bones help to keep your back in correct position and correct wrong posture.
Quality Steel Bones 
It features built-in 13 steel bones to hold the trainer in place and prevent it from rolling down or shifting. The 30 cm long 4-row hooks and the 2 wide hook & loop fasteners are fully adjustable for close fitting. The widening design provides more coverage, thus more sweat produced and more calories burned.
Maximum Sauna Effects
The 2.5 mm neoprene fabric makes you sweat 3 times more than usual to accelerate calorie burning process.  Keep your muscles warm and supported.

It also prevents post-workout fatigue and injuries and keeps you warm when you do some outdoors activities in cold weather.
Fat Burner
Invisible and slimming.  It

 o

ffers maximum tummy control, reduce waistline, back support and help to correct posture.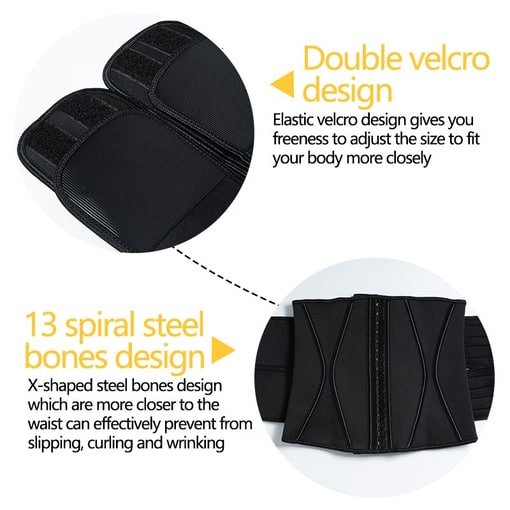 The powerful firming effect makes you sweat a lot, which is very helpful for detoxification as well as making your body healthier.
Note:
Due to the Neoprene material, the trainer may come with a slight odor which can easily be eliminated by airing or washing it. Only hand wash in cold water with a soft detergent; hang dry to maintain shape and elasticity.