25 Steel Boned Latex Waist Trainer
Our 25 Steel Boned Latex Waist Trainer features flexible and durable bones, strong enough to keep you in best posture and flexible in such way that they can bend easily but recover quickly to origin.
This waist cincher shaper provides 360 degrees of shaping around the mid section and lower back, it enhances your figure while helping your posture and gives you a beautiful silhouette.
Size Reference 
Size  

Fit for Waist (cm)

cm
inches

XXS

55-65

21.7-25.6

XS

62-70

24.4-27-6

S

70-78

27.6-30.7

M

78-86

30.7-33.9

L

82-90

32.3-35.4

XL

86-95

33.9-37.4

2XL

90-98

35.4-38.6

3XL

95-103

37.4-40.6

4XL

100-110

39.4-43.3

5XL

105-115

41.3-45.3

6XL

110-120

43.3-47.2
2 layers latex waist Trainer: Outer layer of 100% natural latex; Cotton-spandex lining absorbs moisture. The 25 flexible thin steel boning for powerful shaping, provides support on your sides and back, offer abdominal compression and lumbar support, helps relieve pain and improves posture.
High compression, hook and eye closure to keep tight fit and adjust size as you lose inches. Great for reshaping post pregnancy tummy after giving birth, comfortable to wear all day and improves your posture to reduce fatigue.
This latex waist trainer for weight loss can help mothers to loss tummy weight and regain back their pre-pregnancy weight, if used together with exercises. High compression durable latex can reduce your waist by 2-4 inches.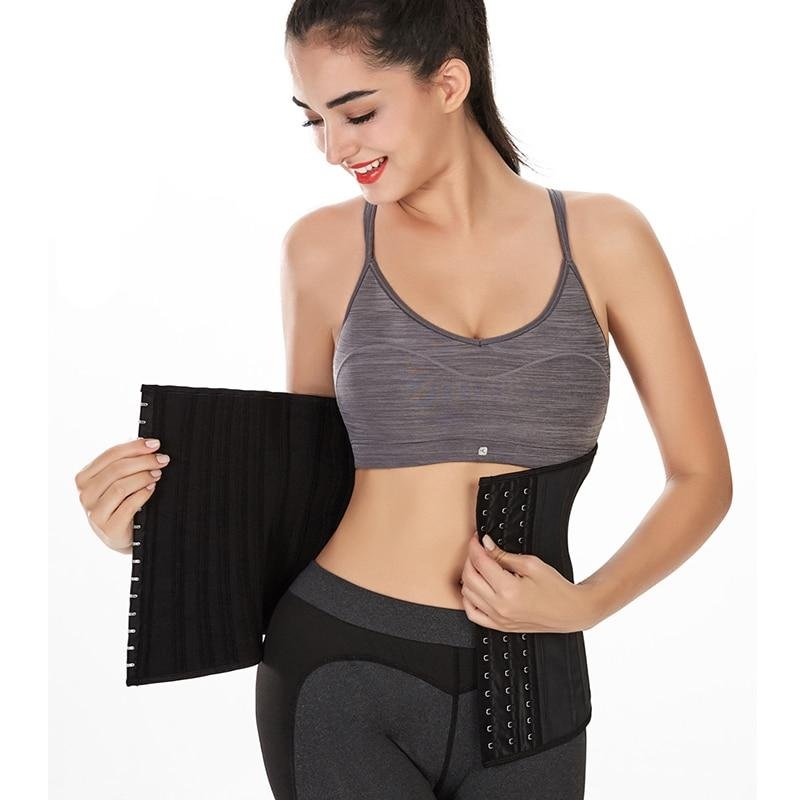 Our 25 Steel Boned Latex Waist Trainer is designed to be worn while working out or underneath clothing and dresses or whenever you go to a party, work or a gym. Besides it is suitable for any occasion. 
Perfect curve sporty hourglass design makes your midsection look even smaller, perfectly show the beauty of a woman's curves. Helps to minimize waistline and midriff for an hourglass shape.
Instantly shapes your body into an hourglass figure, sculpts 2-4 inches from your waistline, flattens belly and bulges,  supports back to help correct your posture, stimulates thermal activity in your core, increases your perspiration during exercise, sports, walks, runs, and at-home physical activities.