Zip-Up Velcro Waist Trainer Adjustable Waistband
Our Zip-up Velcro Waist Trainer comes with zipper front closure plus adjustable waistband with velcro closure for maximum waist compression.
An ideal waist trainer for workouts, cardio, and abdominal exercises. It also an excellence fit for, long torso, short torso and normal torso body types.
The double layered compression ensures a continuous full and double coverage for the tummy, making sure you reach your new fitness goals faster. It is ultra-lightweight with a flexible fit, which makes it an ideal workout gear!
 Size Reference
Size
Waist
Centre Front
Centre Back
cm
inches
cm
inches
cm
inches

XS

60-66

23.5-26.0

32.5

12.5

27.0

10.5

S

66-72

26.0-28.5

32.5

12.5

27.0

10.5

M

72-78

28.5-31.0

32.5

12.5

27.0

10.5

L

78-84

31.0-33.5

34.0

13.0

28.5

11.0

XL

84-90

33.5-36.0

34.0

13.0

28.5

11.0

2XL

90-96

36.0-38.0

34.0

13.0

28.5

11.0

3XL

96-102

38.0-40.0

34.0

13.0

28.5

11.0

4XL

102-108

40.0-42.5

34.0

13.0

28.5

11.0

5XL

108-114

42.5-45.0

34.0

13.0

28.5

11.0

6XL

114-120

45.0-47.0

34.0

13.0

28.5

11.0
Our Zip-Up Velcro Waist Trainer has 7 spiral steel bones to ensure the quality and stability of waist trainer while providing more stiffness and support to keep you in best posture. It's flexible and durable, as soft as plastic bones.
Features and Benefits
100% Polyester lining, 100% Neoprene – Upgraded premium 3 layers of fabric: more sweat for weight loss.

Help to reduce your waist up to 3 inches instantly.

The velcro faster provides adjustable tight fit around your waist to help you achieve a long lasting waist training effect.

Accelerate sweat loss –  Made of quality neoprene which produces higher compression, resulting in more sweating and removal of toxins from the body.

Inner layers increase body temperature resulting in more sweat while outer layer is extremely absorbent. Sweat on the inside while stay dry on the outside.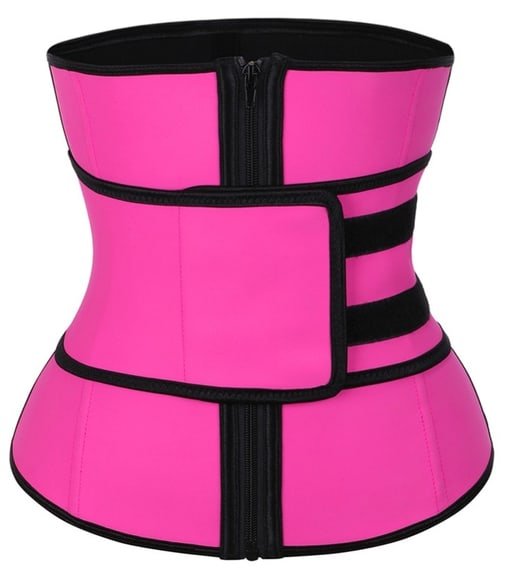 Durable classic zipper and adjustable belt – It is easy to put on and take off; offering flexible adjustment around your waist for waist training and tummy control.

Acts like a compression belly binder around the waist to offer back support and creates the best posture for healing painful muscles.

Enhance curves and accelerate weight Loss –  Help hide belly bulge, burn stomach fat fast, reduce abdomen and waist.

Wear the waist trainer under and you'll have a firmer body figure, be more confident.

Keeps you body warm during cold days. Increase perspiration while allowing your body to sweat out toxins.