Strapless Push Up Inflatable Air Pump Cup Bra
Easily convert Cup "A" to Cup "C" with our Strapless Push Up Inflatable Bra self pumped bra that easily increases your bust fullness. This adjustable sexy plunging bra with push-up padding gives you extra support while enhancing your cleavage.
Increase or decrease the cup size any time you feel like. Basically, you decide what cup size you want! It features clear adhesive wings that are washable and reusable. No more adhesive tape required. 
 Size Reference
| CUP SIZE | BRA SIZE |
| --- | --- |
| A | 32A(70A)  34A(75A)  36A(80A)  32B(70B) |
| B | 38A(85A)  34B(75B)  36B(80B)  32C(70C) |
| C | 38B(85B)  34C(75C)  36C(80C)  32D(70D) |
| D | 38C(85C)  34D(75D)  36D(80D)  38D(85D) |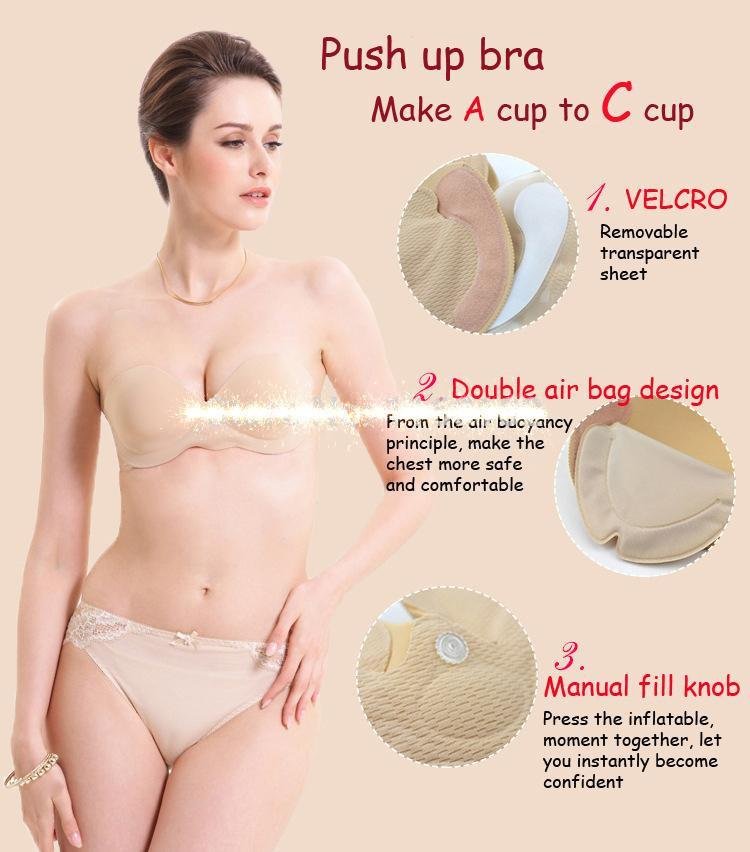 With evolution air pump technology, you can have the natural push-up and lifting effect you've always wanted. With simple presses you can instantly gain two cups up without surgery.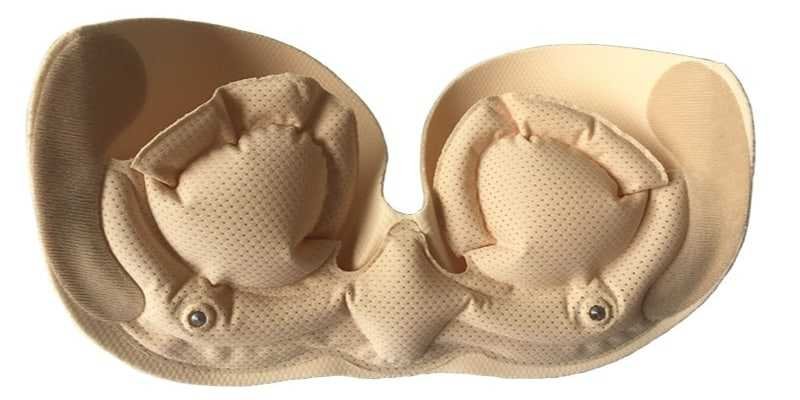 You can decide what cups you want every day without buying different types of inserts. It can also resolve uneven breasts-direct more air to one side than the other.
Invisible, strapless, backless bra, perfect hidden under your dress, it is attached to the sides of the body with a pair of invisible wings, suitable for any formal occasion dresses, even for office dresses. The bra is designed to stay out of sight, not to cover the entire breast.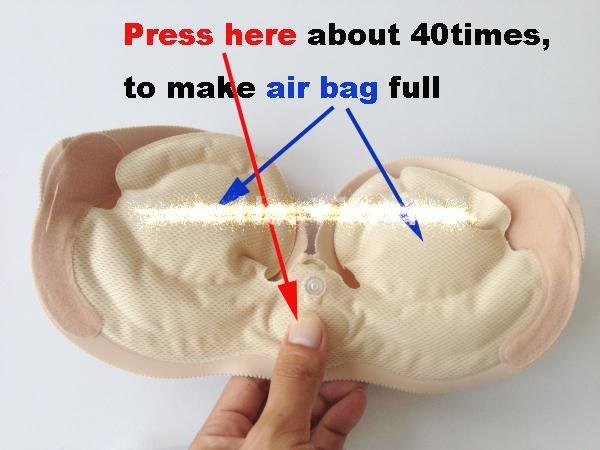 Suitable for all skin types, 100% allergy free fabric, clear wings are adhesive and reusable, and will not leave rashes or residue. Hand-wash the bra in light detergent, allow to air-dry, and re-apply protective film until next use.
This Strapless Push Up Inflatable Bra can be a good choice to all types of dresses, you needn't worry that it will be falling off all day and all night.
The wings are reusable, wash it with mild soap and air dry, store in a dry place away from direct sun light, so you can use it for many times.
Just by pressing a hidden button embedded in the bra and pumping air into the bra padding, you can have whatever a cup you want. Besides you can always remove the back straps. 
How to Use

Strapless Push Up Inflatable Bra 
1: Attach the invisible bra to the sides of the your bust with a pair of invisible wings.
2: Press the bulging button on the inner side of the bra. You should see the pad gradually filling up each time you press the button.
3: Remove the clear sheet from the adhesives of both sides.
4: Bend 45 degrees to your front, hold the middle of the bra and fit on both breasts.
5: Put your right arm across the bra for support. Use your left hand and hold the left adhesive. Pull the adhesive slightly upwards and paste it on your body. Do the same for the other side.
Step 6: You may now control the push up by pressing the air pump button. (To release air, press the top button that is found at the top of the air pump, in the inner side of the bra).