Self Adhesive Strapless Invisible Bra
Our Self Adhesive Strapless Invisible Bra features a clasp closure front, backless strapless design, made of natural, soft and comfortable material. It has biological glue inside the cup to help keep it attached to the breast.
This strapless push up lift bra creates an appearance of enhanced cleavage. Invisible and comfortable, naturally fit your chest curve. It pushes up your breasts with a charming sexy deep V shape.
The form enhancing ability of this bra helps to make the woman's breasts appear fuller. Perfect for wedding gown, low-cut outfits, prom and homecoming dress or any formal evening dress.  
Size Reference
| CUP SIZE | BRA SIZE |
| --- | --- |
| A | 32A(70A)  34A(75A)  36A(80A)  32B(70B) |
| B | 38A(85A)  34B(75B)  36B(80B)  32C(70C) |
| C | 38B(85B)  34C(75C)  36C(80C)  32D(70D) |
| D | 38C(85C)  34D(75D)  36D(80D)  38D(85D) |
Our Self Adhesive Strapless Invisible Bra is made of medical grade silicone, adhesive sticky and skin-friendly. Magically brings your assets together, enhances the overall appearance of your bust by allowing you to shape and lift your breast tissue to your desire. To create a full and sexy cleavage.
Powerful lift up effects naturally creates an appearance of increased cleavage. Get extra cleavage without the bra straps and say goodbye to all embarrassing occasions!
Reusable bra though so much sweat can affects the stickiness of the adhesive glue, so it not recommended for using in high temperature outdoors or doing exercise to avoid damaging the glue area.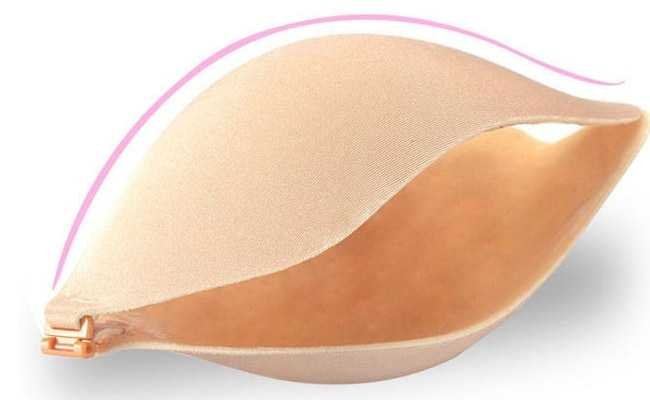 Our Self Adhesive Strapless Invisible Bra will keep your breasts supported and perky all day. The bra can be reused and washed multi times without loss of adhesiveness.
Simply hold the bra cup in your palm — adhesive side up — add a touch of warm water and a drop of mild soap. Gently clean the adhesive with circular motions using the fingers of your opposite hand, and air dry.