Men Body Shaper Vest Sauna Fat Burning Top
Our Men Body Shaper Vest Sauna Fat Burning Top is one of the fastest and safest way to lose weight! Sweat more and shed pounds faster!  Basically, it accelerates your natural body heat production, helps to raise your body temperature to shed water weight and effectively promotes sweating to burn more calories.
Size Reference 
| | |
| --- | --- |
| Size | Waist (Inches) |
| S/M | 30 – 36 |
| L/XL | 38 – 44 |
| 2XL/3XL | 46 – 52 |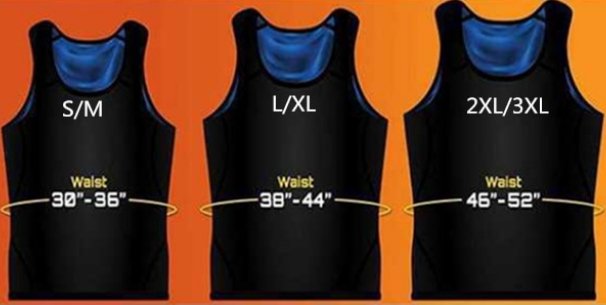 Our Men Body Shaper Vest uses a heat-trapping polymer fabric to boost your natural body heat and stimulate sweating with any type of physical activity. 
Wearable under or over your clothes. Moves and stretches with you during workouts or any errand. Doesn't ride up even when doing different activities. Tucks tummy and shapes your waist instantly when worn. Gives a flat tummy, curvy waist, and help to enhance your body shape.
Features and Benefits
Effective – Wearing this vest during any physical activity creates a hot-sauna like experience. Wear it while working out or while performing daily activities, or even at work. Your body temperature will rise, so you sweat more and lose water weight and shed pounds lightning-fast.

Increased sweating also helps with detoxifying and cleansing your pores.. Put it on & you'll instantly feel the heat.

Slimmer Appearance –  Made from high quality compression fabric, it instantly compresses and make your tummy looks slimmer.

Comfortable and Light –  Designed so that it's incredibly light and comfortable to wear even for extended periods. It molds and moves with your body during workouts at the gym or at work.

Exceptionally flexible, featuring a traditional tank top style you can wear it underneath your clothes completely hidden without adding any extra bulk. The polymer material repels moisture to quickly dry and always stay fresh so that you won't feel wet or sticky from the excess sweating.

It is recommended to wash/wipe Men Body Shaper Vest Sauna Fat Burning Top after each use, particularly after heavy exercising. Hand wash in cold water with a soft detergent. Squeeze out and drain. Do not tumble, no dry cleaning or bleaching.

3 Choices – Choose between sweat vest, sweat belt or sweat pant.