Men Waist Wrap Bandage Waist Trainer
Introducing our Men Waist Wrap Bandage Waist Trainer an elastic waist cincher designed to fit different body sizes.  A multipurpose men wrap, suitable for wearing during every day activities such as running, working out, sitting at your desk and many other daily activities. 
Size Reference
Size

Waist

Belt Length

Belt Width

inches
cm
inches
cm
inches
cm

3M

25-80

65-200

118

300

4

10

4M

25-80

65-200

158

400

4

10

5M

25-80

65-200

197

500

4

10

6M

25-80

65-200

236

600

4

10
Features and Functions
Flattens abdomen, improves your body curvature as well as it protects your spine.

Made of soft, breathable and elastic fabric, which is strong in wrapping, firmly lock your abdomen.

Enough length to wrap your abdomen. Simple design, controllable waist, adjustable tightness. It is very fashionable whether you wear it outside or inside, giving you a more natural look and shape.
Freely elastics so that you can do exercise and breath freely.

It optimizes your metabolism and burns extra belly fat. Designed with superior craftsmanship to retain optimal body temperature in the abdominal area as well as assists in fat loss and improves burning of calories during exercise.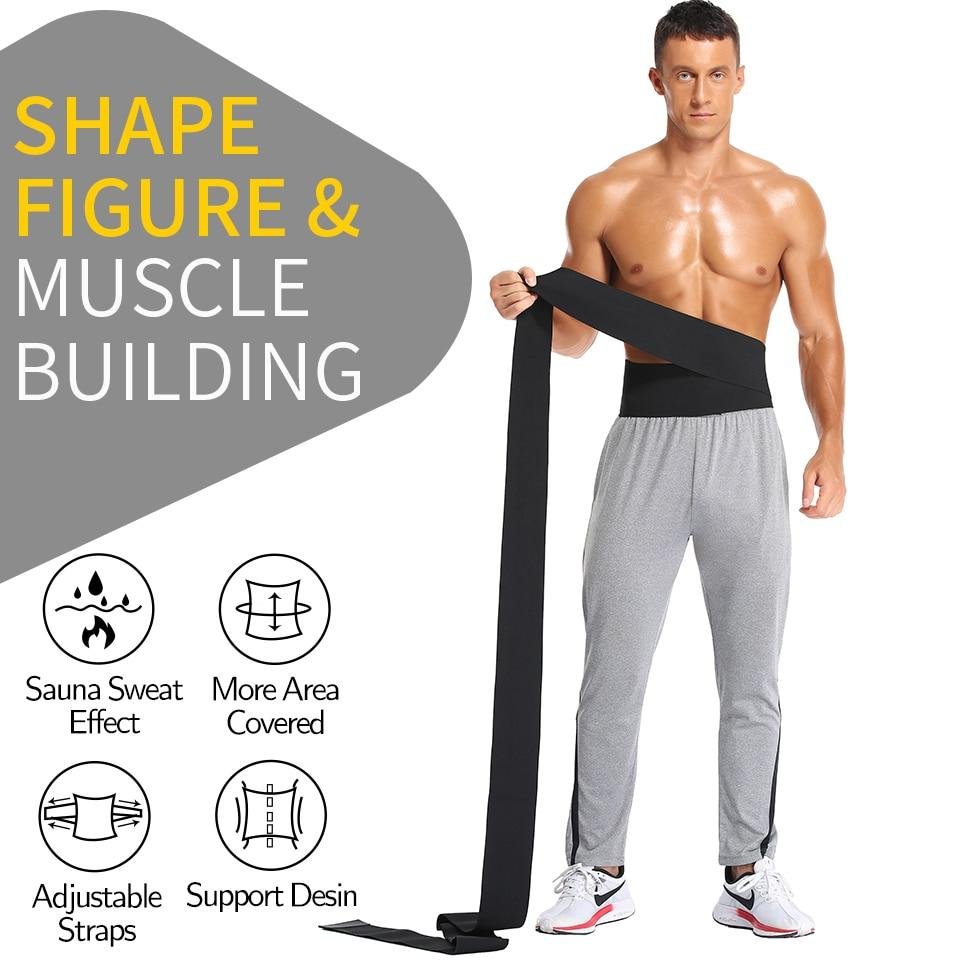 Invisible  – Perfect for everyday outfit, invisible under clothes.

Instant  – Cinches your waist 5-7 inches away in a blink.

Comfortable –  Made with a premium quality material which is more durable, breathable for a whole-day wearing.

Decent – Made with waterproof material, no wet spots showing on your tummy area. Also, seamless under clothing, 100% invisible!
Stretchy and adjustable – Instantly reshapes your waist, seamless, comfortable, adjustable snatch, no stomach bulging, can be worn everyday!!!!!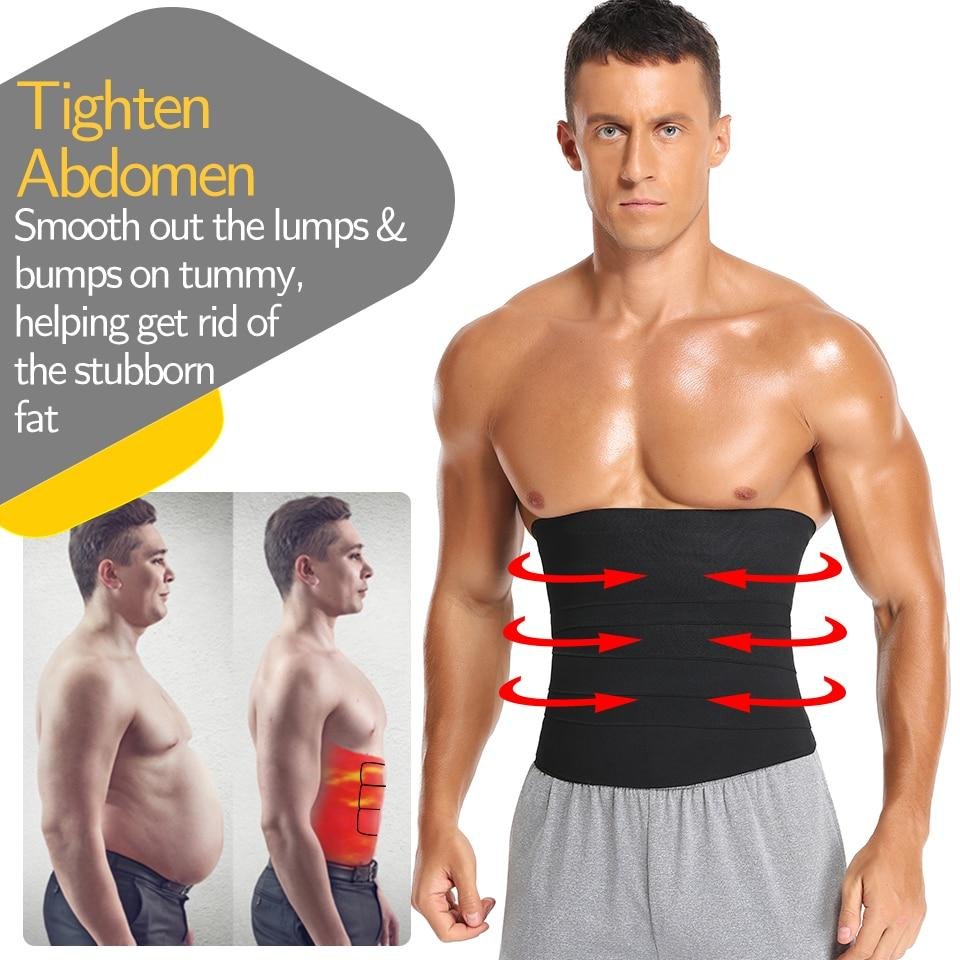 As A Gym Waist Trainer
Increased body heat helps to trim you waist by removing excess sweat water weight during exercise while the lightweight material prevents heat stroke.

Our Men Waist Wrap Bandage Waist Trainer is the best fitness equipment for all kinds of exercise. Perfect for people suffering

from back pain, lower back and lumbar pain, sciatica.  Tendonitis, stiff or sore muscles, tendons & joints, and more!

The wrap is designed to help you get the support you need for all day and all night comfort.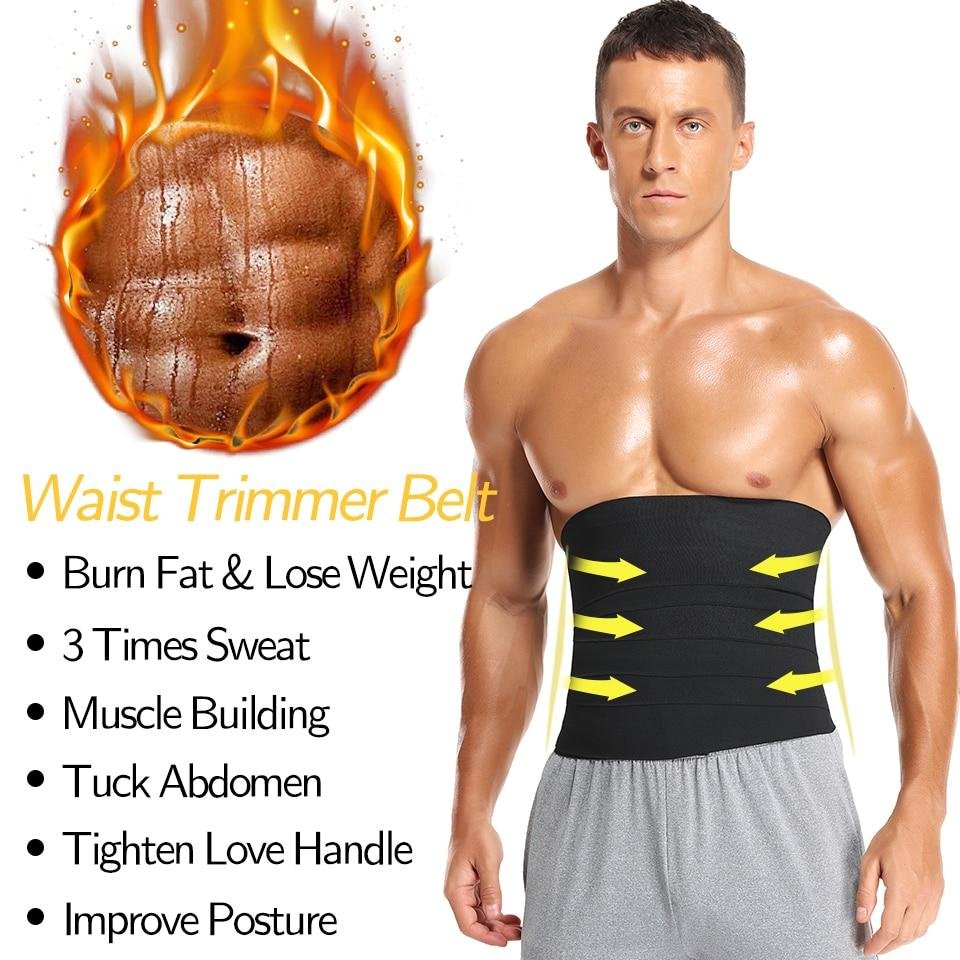 This Men Waist Wrap Compression Band is made of high-quality Nylon, environmentally friendly and resilience is excellent. Our elastic wrap has been tested and passed 10,000 elastic tests, and the elasticity is stable and not easy to deform, strong, and durable.
Specs

Material: 100% Nylon

Size: 3m-6m

Comfortable, adjustable, breathable and stretchy

Foldable, easy to carry
Back Support
Gives you support while still allowing you to retain your range of motion. This is extremely important because by retaining your range of motion, your muscles can continue to work and strengthen.

Helps support lower back muscles so you can move more confidently and comfortably.

The abdomen belt is made of high-quality, lightweight and durable materials, economical and durable.
Stretch 100% Nylon – Made of high-quality 100% nylon fabric with great stretch, much soft and comfortable to wear.

Provides wide cover for the stomach for a perfect fit as well as it offers best support, and enhanced comfort.

Our Men Waist Wrap Bandage Waist Trainer design with long strap is wider than generic items, this means more area covered, more calories burned and more sweating, makes the abdomen effect more obvious.
Breathable and stretchy fabrics for ultimate comfort, super thin & lightweight that you will almost forget you are wearing this waist wrap. Flexible and stretchy top grade velcro strap has high adhesion to ensure it will not move while you exercise.
It does not only effectively prevents it from moving and slipping down but it's also flexible to adjust to your size, shapes and contour to fit around your waist comfortably.