Fajas Colombian Girdle BBL Postoperative
Our Fajas Colombian Girdle BBL Postoperative is a high-quality body shaper designed to provide support and compression after surgery. Made from premium-grade materials, this girdle is engineered to provide the perfect blend of comfort and functionality, helping you achieve your desired post-surgery results.
Size Reference
Size
Waist 
Hips
inches
cm
inches
cm

S

26.0-28.3

66-72

35.4-37.8

90-96

M

28.3-30.7

72-78

37.8-40.2

96-102

L

30.7-33.1

78-84

40.2-42.5

102-108

XL

33.1-35.4

84-90

42.5-44.9

108-114

2XL

35.4-37.8

90-96

44.9-47.2

114-120

3XL

37.8-40.2

96-102

47.2-49.6

120-126

4XL

40.2-42.6

102-108

49.6-52.0

126-132

5XL

42.6-45.0

108-114

52.0-54.4

132-138

6XL

45.0-47.4

114-120

54.4-56.8

138-144

Features
3 Adjustable front hook and eye closure for a perfect fit.

Extra firm compression on waist area for maximum results.

Overlapping crotch design for ease of going to the bathroom.

Flexible 4 front and back steel bones for support.

Stretch and non-slip leg opening design for anti-rolling effect.

Elastic wrinkle butt design to accommodate all but sizes. 

Open bust design, allowing you to wear your favorite bra.

Adjustable hooks and eye closure shoulder straps for custom fitting.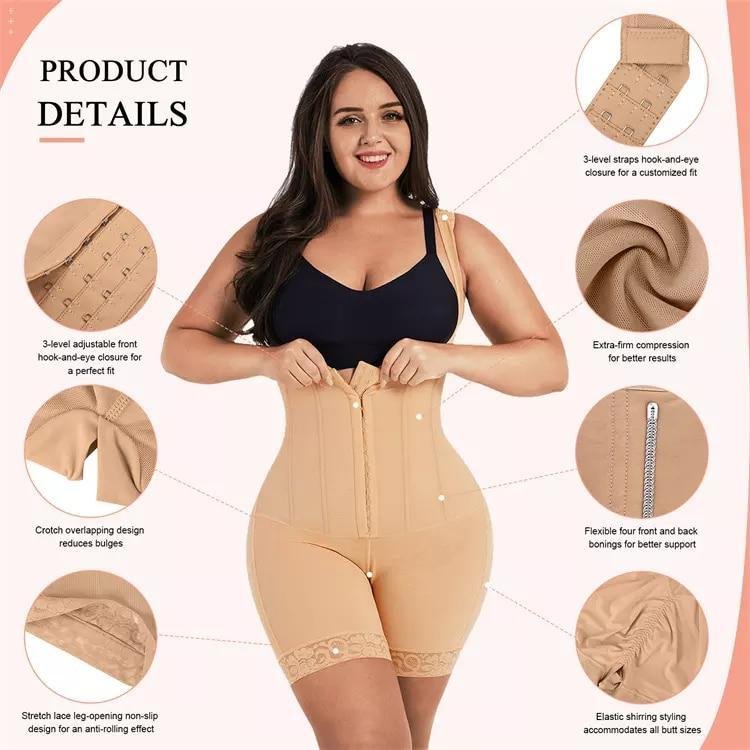 Made from a combination of Nylon and Spandex fabrics, which are highly elastic and breathable. This makes our Fajas Colombian Girdle BBL Postoperative comfortable to wear for extended periods, allowing you to get back to your daily routine with ease. The high quality fabric also provides excellent compression, ensuring that your skin and muscles are held in place during the healing process.
Our shapewear features a high waist design that helps to flatten your abdomen and smooth out your curves, creating a sleek silhouette. The girdle also has adjustable straps that can be customized to fit your body perfectly, providing additional support and compression where needed.
One of the key benefits of this girdle is that it is designed to promote healthy blood circulation and lymphatic drainage, which is crucial for postoperative recovery. The girdle's compressive effect helps to reduce swelling and inflammation, while the breathable fabric allows your skin to breathe, preventing any discomfort or irritation.
Our Fajas Colombian Girdle BBL Postoperative is a must-have for anyone undergoing surgery. With its high-quality materials, adjustable design, and compressive effect, this girdle is the perfect post-surgery garment to help you achieve the results you desire while ensuring a comfortable and healthy recovery.