Seamless Arm Shaper Front Open Push Up
Our Seamless Arm Shaper gives you a firm compression on your arms, shoulders and back. Smooths and tightens bumps, bulges, reduces arm and back flab and hides your rolls, giving you a slimmer upper body.
Made of 72% Nylon and 28% Spandex, it's super elastic, soft, flexible, breathable and quick-drying. Our arm sleeve shaper is great for daily wear, party, club, beach, home, sleep, valentine's day, birthday etc. 
Size Reference
Size

US Size

Underbust

Waist

Your arm

inches
cm
inches
cm
cm

S

4

28.5-29.5

71.0-75.0

26.0-27.5

66.0-70.0

26.5-29.0

M

6

30.0-31.5

66.0-80.0

28.0-29.5

71.0-75.0

28.0-30.5

L

8

32.0-34.5

81.0-87.5

30.0-32.5

76.0-82.5

30.0-32.5

XL

10

35.0-37.5

89.0-95.0

33.0-35.5

84.0-90.0

32.5-35.0

2XL

12

38.0-40.5

96.0-102.5

36.0-38.5

91.0-97.5

35.5-38.0
Seamless Arm Shaper comfortably reduces slack fat effectively, makes your arms look slimmer. Great for wearing underneath your dresses and shirts. Seamless that people won't notice you are wearing it.
Features and Benefits
Gives great support to your arm and back.

U-shaped design helps to lift up breast while the high-back coverage design smooths back bulges.

Racerback design provides appropriate pressure to improve your posture and guarantee your satisfaction for daily use.

Built-in 14 volcanic energy stones on the back releases the trace elements needed by our body, which improve skin microcirculation and relieves back pain.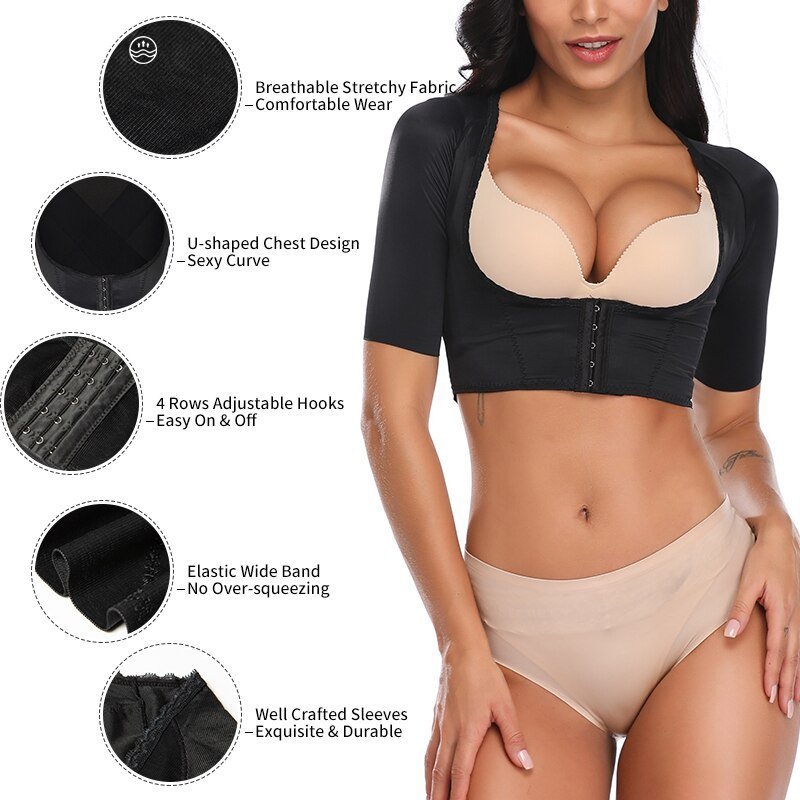 Adjustable 3 row hook in front for easy adjustment, firmness and comfort. 

Strong back design to give support, push up breast into a beautiful level.

Suitable for all occasion – Ideal for everyday use, our Seamless Arm Shaper goes well with your tops and it's perfect under your long sleeved dresses.
The X-shaped design on back makes this body shaper effective in lifting your back. Nice stretchy fabric pulls up your shoulders, helps in post surgery recovery process, corrects your posture and keeps you upright. Say goodbye to hump back!