Neoprene Snatch Wrap Waist Trainer
Introducing our Neoprene Snatch Wrap Waist Trainer, the ultimate workout trimmer that effectively insulates and raises the temperature of the abdominal core, thereby increasing the heart rate, which in turn results in more calories burned. Increased sweat is the most visible effects of this waist trainer.
A high quality with superior grip side Velcro, and neoprene which is odorless & completely non-toxic. Unisex design is intuitive, easily adjustable, can be used as well as a postpartum belt and most importantly, it fits all. Also, you do not have to worry about sizing!
It provides improved core stability through mild compression, reduces excessive motion during workout, so it results in fewer muscle injuries from cool downs between weight sets, drills, or exercise routines. Suitable for indoor and outdoor use.
Features and Functions
Abdominal Support.

Core Training.

Shedding excess water weight.

Neoprene Snatch Wrap Waist Trainer fits all body sizes.

Premium quality neoprene.

Helps to retain heat during workout hence it accelerates waist sweat. 

Slims and tones up your tummy.

Hook and Loop closure.

Relieves back pain by providing lower back support.

Enhance circulation in the abdominal area during exercises.

Size: Length-400cm (157inches), Width-12.5cm (4.9inches)
This wrap features anti-slip grid surface along the internal lining, keeping the trimmer in place during cardio routines such as jogging, running, or cycling; lightweight.  
Our Neoprene Snatch Wrap Waist Trainer fits comfortably beneath clothing, always wear directly against the skin.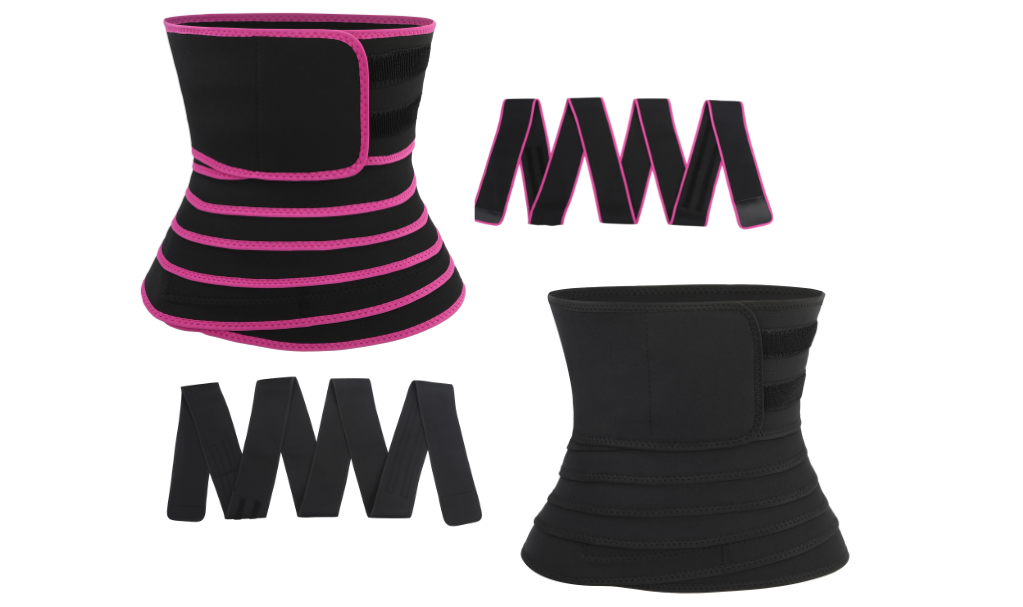 Train smarter and burn more calories with the best fit all neoprene waist trainer. Provides adjustable core stabilization, increases the body's heart rate for a more efficient exercise program, and dramatically sheds excess water weight.