Male Waist Trainer Neoprene Sweat Shaper
Burn more calories with our Male Waist Trainer Neoprene Sweat Shaper that effectively insulates and raises the core temperature of the abdominal area thereby increasing the heart rate, which in turn results in more calories burned within a short time.
 Size Reference
Size

Fit for Waistline

Front Height

Back Height

inch

cm

inch

cm

inch

cm

XS

26.8-28.7

68-73

11.0

28

9.8

25

S

28.7-30.7

73-78

11.0

28

9.8

25

M

30.7-32.7

78-83

11.0

28

9.8

25

L

32.7-34.6

83-88

11.0

28

9.8

25

XL

34.6-36.6

88-93

11.0

28

9.8

25

2XL

36.6-38.6

93-98

11.0

28

9.8

25

3XL

38.6-40.6

98-103

11.0

28

9.8

25

4XL

40.6-42.5

103-108

11.0

28

9.8

25

5XL

42.5-44.5

108-113

11.0

28

9.8

25

If you are in between two sizes, we recommend the bigger size. Thank you!
Features and Benefits
Highest Quality  – Made with wide and super 2.0 : 45% neoprene latex + 45% nylon + 10 spandex , the best quality that is safe while ensuring superior heat insulation and stomach coverage, utilizing durable fabrics and a strong fastener that won't get undone during exercise.
Superior Craftsmanship –  While other sweat belts fall apart at the seams after a few weeks of use, ours is designed and made to stand up to abuse, using the strictest quality control standards in the industry!
Helps to Lose Weight Faster – Burn stomach fat faster, lose water weight and maximize calorie burn during exercise! This easy to use waist trimmer wraps around your stomach and retains heat in your abdominal area, increasing your core temperature while enhancing thermogenic activity and sweat.
More Features
Elite Technology – Our Male Waist Trainer Neoprene Sweat Shaper utilizes Anti-Slip Grid technology on the interior surface to prevent the sauna belt from slipping, bunching, and moving. This interior also repels moisture to prevent sweat & bacteria build up while at the same time creating a contoured fit that conforms to your shape and size. 
Comfort, Supportive and Pain Reliever – Made from comfortable light-weight materials that will conform to you while supporting your abdominal and lower back/lumbar muscles improving your posture and creating a therapeutic heat that relieves minor pain.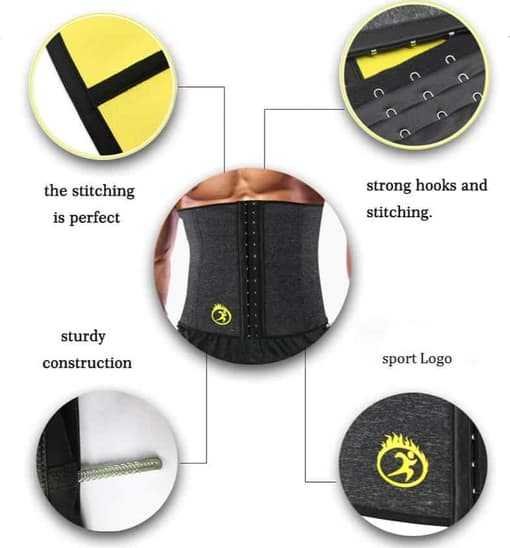 Designed with 4 flexible steel bones to provide strong support around the waist and back during workout. Helps to correct posture and offers a comfortable back support if you're in back pain, most importantly, give you a nice body shape, if you consistently wear it.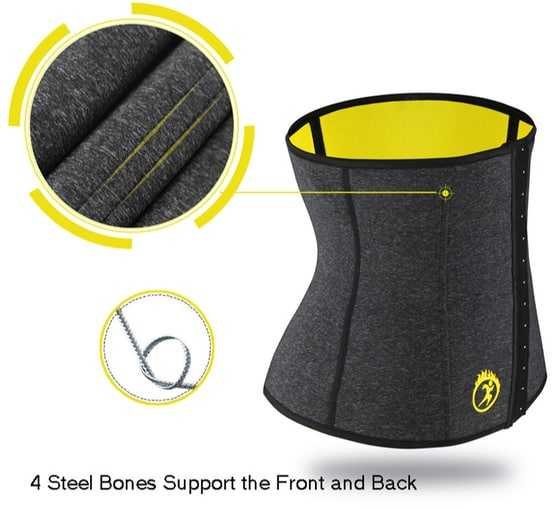 3 adjustable hooks allow you to control the compression you need, durable and stretchable fabric provide wide cover to hold tummy well and smooth out the lumps and bumps on waist, help get rid of the stubborn belly fat .
Our Male Waist Trainer Neoprene Sweat Shaper offers a strong support for abdominal muscles and lower back, help release pressure on waist and enhance muscle mobility with ease. It's firm structure helps to tighten your abdomen to achieve toning effect.
Cushions, compress and supports lower back by improving posture and providing instant abdominal compression and lumbar support.